Marriage proposal in Paris with candles
Marriage proposal in Paris with candles
Marriage proposal in Paris with candles
Marriage proposal in Paris with candles
Between 7:30pm and 8pm, you'll receive a phone call from your chauffeur informing you that your ride has arrived: a luxurious 1952 Rolls-Royce Silver Dawn. You'll step outside your hotel or accommodation and be greeted by the waiting elegant vehicle. From there, you'll embark on a journey out of Paris and into the scenic Chevreuse valley and Rambouillet forest.

As you drive down the cobblestoned road, the dense foliage creates a mysterious and enchanting atmosphere. Suddenly, the magnificent Vaux de Cernay abbey will emerge into view. This 12th-century Cistercian domain, restored by the Baron of Rothschild a couple of decades ago, will take your breath away. Your vehicle will pass through a sprawling sixty-hectare park and follow the banks of a picturesque lake before finally parking near the old convent of the abbey.
​
Stepping out of the car, you'll be greeted by the sight of hundreds of blazing candles, seemingly floating in mid-air. The candles will spell out a message, your marriage proposal message, covering an area of approximately twenty meters! It will be an unforgettable sight for your beloved!
​
As you make your way to the former lay brother refectory, which now serves as a gastronomic restaurant, the old stone walls of the abbey will be illuminated by a magical red smoke cloud.
Once inside, you'll be seated at your table to enjoy a delicious six-course meal, complete with champagne. The menu includes mouthwatering dishes like duck foie gras with raspberry puree, toast with bilberries compote and balsamic vinegar, grenadin of veal with risotto and crushed tomatoes, and refined cheeses. To cleanse your palate, you'll be served a refreshing lavender milk sherbet.
This proposal will be an evening that your partner will never forget, an enchanting experience that she'll cherish for a lifetime...
​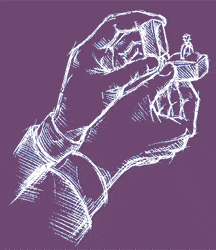 The round trip in a Rolls-Royce Silver Dawn from your hotel/accommodation (Paris/neighboring towns) to the Vaux de Cernay abbey.

The display of the message of your choice (maximum of 18 characters) with hundreds of candles.

The illumination of the abbey by fifteen Bengal lights.

The gastronomic dinner with a bottle of champagne Moët and Chandon.
Price of the package: 4990 euros

Experience having an average duration of 4 hours, including transport, with pick up from your hotel or accommodation between 7:30pm and 8pm.
Experience depending on weather conditions.