Marriage proposal in Paris with a magician-delivery man
Marriage proposal in Paris with a magician-delivery man
WITH A MAGICIAN-DELIVERY MAN
At the time of your choosing, a magician delivery man will appear at your hotel or accommodation to deliver a special letter to your beloved. As the deliveryman announces that he has a letter for Miss Dugaigneau Randon de La Tour-Girard, your partner will likely tell him that there's no one there by that name.
​
In realizing the mistake, the messenger will theatrically set fire to the letter with a "Spaf!". A huge flame will consume the envelope, and an elegant red rose will be revealed. The delivery person will offer the flower to your sweetheart as a gesture of apology for the inconvenience caused.
​
From his pocket, the delivery person will produce a deck of cards and ask your partner to randomly select one, citing it as a secular tradition among delivery persons. Your beloved will choose a card at random and be astonished to see your marriage proposal message written on it, leaving her absolutely speechless!
​
Discreetly, the magician will vanish into thin air, leaving your sweetheart to ponder the incredible experience she has just had...
​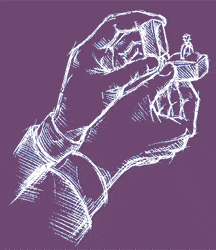 The magic trick at the address of your choice with the apparition of a red rose and a card displaying the message of your choice.
Price of the package: 290 euros