Marriage proposal in Paris at restaurant
Marriage proposal in Paris at restaurant
Marriage proposal in Paris at restaurant
Marriage proposal in Paris at restaurant
At 8:30 pm, you will stroll along a romantic alleyway on Île de la Cité, just a few steps away from the breathtaking Notre-Dame de Paris. Holding hands, you will arrive at a stunning 16th century family house, its facade adorned with beautiful grapevines and greenery, welcoming you to an enchanting evening.

Upon entering, you will be immediately immersed in a hushed setting that rivals the most beautiful French aristocratic dwellings of the Renaissance. The homeowner will greet you and lead you to the first floor, where you will be awed by a dining room exquisitely decorated with candlesticks, precious trinkets, and antique furniture. With a magnificent view of the towers of Notre-Dame, you will sit at a table elegantly bedecked with chiseled vintage wine glasses and silver cutlery.

You'll start the meal with an Opéra Royal Kir, followed by a mouthwatering selection of dishes sourced from the best farms in the department of Aveyron. You'll enjoy a seven vegetable farçou, fried foie gras with warm slices of French bread, stuffed scallop shells, and a duo of duck breast with Coufidou d'Aubrac, cooked to perfection in a copper stockpot with wine from Marcillac.
​
​Just before dessert is served, the waiter will return to your table with a majestic bouquet of red roses. He will offer the elegant bouquet to your beloved, who will discover a heart-shaped metal box nestled among the blooms. Delighted by the sweet gesture, your partner will grasp the bouquet and open the secret box, revealing a piece of paper rolled up with a ribbon. As she unrolls the paper, she will discover your marriage proposal message, leaving her utterly spellbound!

Shortly after, a glass of champagne will be served to you, and as a gourmet apotheosis, you will savor a delectable dessert made of rich chocolate and succulent red fruits...
​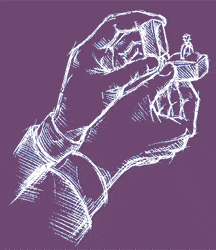 The dinner for two including royal kir, first course, main course, dessert, wine, champagne and coffee.

The bouquet of red roses with a heart-shaped metal box containing your message.
Price of the package: 390 euros

Experience having an average duration of 2 hours, with an arrival at restaurant at 8:30pm.
The menu is indicative and may be subject to change.